'Say Amen, Somebody' Will Make You Want to Sing Out
Back on the big screen, George Nierenberg's 1982 documentary tells a history of gospel music with vérité attentiveness.
Anything that matters for a documentary about gospel music — harmonies, robes, wigs, sweat, a shot (perhaps) of the kind of piano playing that could easily be confused with kneading dough, professional wrestling or construction work — is spilling out of "Say Amen, Somebody."
At some point, Willie Mae Ford Smith, the éminence grise gospel pioneer, treats a St. Louis service to a version of "That's Alright." In one hand, she's got a microphone, in the other, her walker. This movie was originally released in 1982, which would have meant Smith was in her late 70s. But you know how gospel is: The spirit doesn't give a damn about numbers. She still means every smooth intonation, every bark.
That image pretty much characterizes the movie: mighty yet somehow modest. George Nierenberg directed it, on film, and the classics-rediscovery outfit Milestone oversaw its restoration. The people in "Say Amen" aren't singing this music for money or any glory greater than God's. They're singing because they can't not. And the singing all sounds like Sunday morning — and Sunday afternoon and, depending on where you did your churching, Sunday evening, too. In this movie, even when you're at somebody's dining room table, you're also in a pew.
Smith is the movie's ostensible subject, along with Thomas A. Dorsey, a gospel founding father and composer of a major portion of its songbook. Nierenberg catches him in his mid-80s, full of the kind of vigor he'd need to make it through one of his own songs. "Say Amen," which opens this weekend at Film at Lincoln Center, settles in St. Louis and Chicago but absorbs a whole world with vérité attentiveness — listening to conversations in living rooms and abandoned train stations, kitchens and cars.
It's all plain and yet grand, curious yet noninvasive. This country has a long history of white people happening upon black musicians and screaming, "Eureka." This movie just wants to show what its subjects would like to tell. This is to say that it's all retrospect, too. Smith and Dorsey reminisce about their life stories and tell a history of gospel music. The filmmakers catch them just in time, to hear about this music from the people who, decades before, essentially invented and perfected it.
Smith and Dorsey are both long dead. Their lives were happy. Their lives were sad. Their lives, essentially, were lives. And all of that life is in their music, which, thanks to Dorsey's innovation, weds the plaint, woe and human upside of the Negro spiritual with the rhythm of the blues. It was music meant for the church, but the old folks of the 1930s and '40s found it lacking sufficient churchliness. To the elders, this new gospel was nothing but sin. They didn't hear a happy marriage so much as a shotgun wedding.
In "Say Amen," these two are the elders now. The centerpiece happens to be a tribute to Smith, whose pupils have come out to serenade her. A loving, gentle opening detail sets the stage for the afternoon, which the movie cuts in and out of. It's just a D.J. in a booth promoting the festivities. But there's something so loving in the knowing politeness of his pitch. Come out and see, he says, "such inspiring singers as the Delois Barrett Campbell and the Barrett Sisters from the Windy City of Chicago, Saint Louis's own Miss Zella Jackson Price, and the favorite O'Neal Twins with the Interfaith Choir. Don't miss it." Each name is timed with a shot of an album cover — and this was an age when album covers could put across a lot. But, here, they're coming attractions for the roof-raising being done in Smith's honor. It's a day of love but also of vocal athleticism. (Fittingly, the Interfaith Choir comes down the aisles in robes of sports-jersey red and white.)
The singing, though, is just one element in a larger ruminative, perceptive work. The film picks up on the chauvinism just beneath the surface of the church, and in picking up on that, it's aware of feminism clinging to it, like Velcro. Barrett Campbell is making breakfast for her husband, and they're figuring their schedules, when he wonders how much longer he's going to have to wait until their respective ministries can be one, instead of her running around doing the lord's work with her sisters — ferociously, I might add. She makes a half-smile, lays a quick look on him and asks, after a pause, "Do you want eggs with your sausage?"
These kinds of casually loaded moments are also spilling out of this movie. So are some real questions about where gospel music, in the early 1980s, after disco and before "Thriller," is headed and where it can go in a country that, as one of the O'Neals observes, is a "hit-music society."
Of course, the lasting power of the movie might be as a rare document of gospel skill and strategy. It's as thick with celebrants and powerhouses as with ideas and instruction. It's not that no one's tried to articulate the skill and intelligence gospels entail. In the 1920s, James Weldon Johnson and his brother J. Rosamond Johnson set out to catalog and analyze black church music in their two volumes devoted to spirituals.
But there's a tendency to think that, with gospel music, its strength really does just come down from the skies, that it's some kind of radioactive spider. "Say Amen, Somebody" goes some way to demystify how this music gets made, looking on as its makers arrange harmonies and listening to Smith, Dorsey and the singer (and Dorsey's one-time, no-nonsense business manager) Sallie Martin discuss their approaches. And even then, I could watch to a second movie of nothing but that.
These are journeypeople singing here, clergy folk and teachers, who have a rougher, rawer way with a tune. ("You can't be pretty-mouthed and sing," Smith tells one young man.) Nonetheless, gospel can be mysterious in it arrangements and mystical as performance. It doesn't matter if we're talking about Aretha Franklin or the lunch lady: How do you pack that much beauty, wit, passion, musicality, muscle, raggedness, and poise into one song, into one note?
As it is, this is the year's second, event-level gospel-movie restoration. "Say Amen" is more ragged and less obviously divine than "Amazing Grace," the previously unreleased Franklin extravaganza that was shot in 1972. But if you saw that movie and thought about the lives of, say, the people in the jaw-dropping choir that backed Franklin, or what it must be like to be a great gospel singer who just isn't the greatest singer of all time, or how good it must feel to have invented a style of music or to bend that style, in the case of the O'Neal Twins, into an oblong dazzler like "Jesus Dropped the Charges," then here's a movie that'll more than satisfy your wonder. Don't miss it.
Wesley Morris is a critic-at-large. He was awarded the 2012 Pulitzer Prize for his criticism while at the Boston Globe. He has also worked at Grantland, The San Francisco Chronicle and The San Francisco Examiner. @wesley_morris
BACK ON THE SCREEN: SAY AMEN, SOMEBODY
https://leonardmaltin.com/back-on-the-screen-say-amen-somebody/
I was fortunate enough to see George T. Nierenberg's exceptional documentary when it debuted in 1982, and I'm delighted that it is back on theater screens, with its picture and sound lovingly restored. It is just as I remembered it: a deeply-felt, enriching experience. Say Amen, Somebody tells the story of gospel music by focusing on a handful of key figures in its birth and development. Thomas A. Dorsey is hailed as the father of gospel music, and rightly so. He not only composed some of its enduring songs but endured many years of ostracism from churches and priests who thought it had no place in their services. Captured on camera in old age it is clear why and how he survived: his strength of will is formidable. He knows who he is.
Willie Mae Ford Smith is another survivor who has preached the gospel through music her whole life. The joy she brings to her performances, as well as her encounters with friends, family, and churchgoers, is positively infectious. We meet others who share a zeal for the music, like the Barrett Sisters and the O'Neal Twins.
It would be easy, but simplistic, to describe Say Amen, Somebody as a feel-good movie. The people on screen aren't plaster saints, and Nierenberg clearly won their trust in order to show them as they really are. They have made sacrifices along the way and have to deal with family dynamics that aren't always harmonious. That only serves to win our hearts more fully.
Gospel music celebrates the glory of God, and Say Amen, Somebody commemorates some of His most committed messengers. It looks and sounds better than ever in its current restoration, and is well worth seeing with an audience. Don't be surprised if people around you catch the spirit.
Say Amen, Somebody opens today at Film at Lincoln Center in Manhattan, and will be playing theatrically around the country this fall.
Celebrating Gospel Music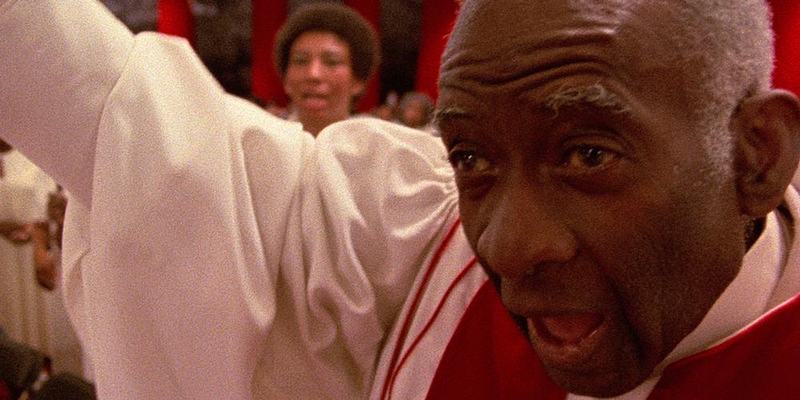 Sep 6, 2019
"Say Amen, Somebody" captures the early pioneers of gospel music, Willie Mae Smith and Thomas Dorsey, in a celebratory documentary that will move even non-believers. Director George Nierenberg made the film in the early 1980s and it's now been lovingly restored for re-release.
— Raphaela Neihausen and Thom Powers
Listen to an interview with George T. Nierenberg and Zella Jackson Price!
Hallelujah!
A Legendary Gospel Documentary is Born Again
September 5, 2019 Michael Giltz
It's a miracle! In the last six months the Lord has graced us with not one but two amazing films about gospel music, both of them mentioned with reverence but virtually unseen for decades.

SAY AMEN, SOMEBODY ★★★★★(5/5 stars)
Directed by: George T. Nierenberg
Starring: Willie Mae Ford Smith, Thomas A. Dorsey, Sallie Martin, DeLois Barrett Campbell, the O'Neal Twins
Running time: 100 min
---
First came the Aretha Franklin concert film Amazing Grace. Director Sydney Pollack filmed it in 1972…and it promptly disappeared down a rabbit hole of technical and legal difficulties. As the music Franklin recorded became the best-selling gospel album of all time, the legend of this long-lost film grew and grew. Surely no movie could match the hype. But it did. Finally released in April, Amazing Grace immediately made a name for itself as one of the great concert films of all time.
And if that didn't save the soul of some cynical film critics, here comes the 1982 documentary Say Amen, Somebody. Roger Ebert and Gene Siskel raved about it on their TV show. Numerous outlets (including Rolling Stone and People) named it one of the best films of the year. Theatrically, it grossed a very impressive $1.1 million in North America (a LOT of money for a documentary film in those days). Then it disappeared.
It Is Risen
I've been waiting to see it ever since. Siskel & Ebert sparked my interest and when the movie came nowhere near South Florida during its theatrical run, I did the next best thing. I bought the soundtrack. Listening to that in 1983, Aretha Franklin's Amazing Grace in 1984,and then the cast album for The Gospel At Colonus in 1985 explains why my music collection includes the Swan Silvertones and Marion Williams (and of course Mahalia Jackson) alongside pop and jazz and country and so on. The soundtrack to Say Amen, Somebody was my gateway drug, but it was only a contact high. I wanted to see the movie.
Now, finally, some 36 years later, it's here. Lovingly restored by Milestone Film & Video alongside partners like the Smithsonian and the Academy of Motion Picture Arts & Sciences, it undoubtedly looks and sounds better than ever.
It goes without saying the performances are glorious, whether delivered around a kitchen table, at a nursing home, in a two-bit storefront church, or at a national convention for choirs and choruses. But for a film often described as joyous and uplifting, Say Amen, Somebody achieves greatness by quietly and effectively telling a much more complex story.
Its focus is on a celebration of the career of Willie Mae Ford Smith but encompasses several generations of singers, from Smith and Thomas A. Dorsey to the O'Neal Twins and the Barrett Sisters down to newcomers like Zella Jackson Price. Almost invisibly, director George Nierenberg shows the battle of wills between Smith and Dorsey's right-hand organizer Sallie Martin, the intense pressure women faced even in the 1980s for daring to preach in such male-dominated faiths, and the sad state of affairs for gospel music in the early 1980s.
Smith taught generations of singers (including Mahalia Jackson), wrote songs, and truly innovated as an arranger, but this film just takes her importance as a given. We see Smith spreading the gospel in nursing homes. She listens with dismay as her grandson diminishes her life's work by saying he doesn't really think it's proper for women to preach. Then she counsels Zella Jackson Price on how very hard it is to make it as a singer when people resent your success and your need to tour, and insist the only place a woman should be is at home raising children.
The Magical Mr. Dorsey
Smith was a compelling life-force of a woman even in her late 70s when this film was shot. But it still took an iron will not to turn the movie over to Thomas A. Dorsey, as signal a figure in gospel music as there will ever be. He's cantankerous, pointed, funny, sharp, and inspiring to everyone around him even though he must struggle just to reach the altar. But the man can't stop creating music and pushing those around him to do the same. When Nierenberg films him walking into a backyard, Dorsey even seems to be conducting the birds on how they sing.
Smith gets a special evening devoted to her career, an evening filled with stirring performances, and the movie expands again and again. We see an annual convention for choirs and choruses, where no one is even sure if Dorsey will be well enough to attend (Try and stop him; he lived another decade, dying in 1993, one year before Smith herself). But what I noted was how…small the convention seemed to be. It looked like the final days of a dying world, with Smith and Sallie Martin bickering over who started what back in the 1920s.
A Road Of Sacrifice
Watching younger acts like the O'Neal Twins meet with record station DJs in tiny out-of-the way locations, you realize how far away from the mainstream gospel music was in the early 1980s. Indeed, Smith's own recorded output is paltry and doesn't do justice to the importance of her style on so many others. In the decades ahead, superstars like Oleta Adams and multi-act events would fill Madison Square Garden while TV would broadcast the Gospel Music Association's Dove Awards. But back in 1982, you might easily have feared pop and R&B would completely engulf gospel music.
But then someone sings. Suddenly, DeLois Barrett's struggle to fulfill her dream and tour in Europe when her husband wants her to stay home and be a draw for his struggling new church doesn't matter. The untold story of Smith's sister–who clearly had personal struggles that go unmentioned in the film and has spent her life in the shadow of that formidable talent–fades away. We forget Dorsey's infirmities and suspend the tug of war between fame and faith.
Willie Mae Ford Smith sits beamingly in the front pews while the Barrett Sisters tear it up on "He Has Brought Us." The two flanking sisters carry on for a line and suddenly DeLois bursts in with a triumphant high note and the members of the choir seated behind them leap up in joy.
At another point in the film, Zella Jackson Price sings a ringing, rapturous "I'm His Child," and you remember why Roger Ebert called this film glorious. Surely the future of gospel is safe in her hands? (Three years later she would give a triumphant concert at Carnegie Hall and you can see her sing in HBO's Angels In America.)
And if you think Willie Mae Ford Smith is going to spend the entire concert celebrating her career without taking the stage herself, you don't know much about performers.
Ken Burns would need sixteen hours to scratch the surface of the complex and riveting history of gospel music. But in 100 minutes of Say Amen Somebody, director Nierenberg gives a sense of the music's history, the major figures, the flaws (like the sexism of the churches) and sees a resurgence up ahead. Aided immeasurably by two great cinematographers (stalwart documentary presence Don Lenzer and Oscar nominee Edward Lachman of Far From Heaven), this is indeed a document and a testament in every sense of the word. Amen to that.Tags: Amazing Grace, Aretha Franklin, Say Amen Somebody, Willie Mae Ford Smith
Michael Giltz
Michael Giltz is a freelance writer based in New York City covering all areas of entertainment, politics, sports and more. He has written extensively for the New York Post, New York Daily News, New York Magazine, The Advocate, Out, Huffington Post, Premiere Magazine, Entertainment Weekly, BookFilter, USA Today and the Los Angeles Times. He co-hosts the long-running podcast Showbiz Sandbox.
Slant Magazine
Review: Say Amen, Somebody Is a Rich Fusion of Concert Doc and Character Study
Throughout, artists intermingle in scenes that have been rendered with an Altman-esque sense of personal panorama.
George T. Nierenberg's 1982 gospel documentary Say Amen, Somebody honors the power of storytelling in oration as well as singing, allowing a wealth of social context to arise from the anecdotes shared by its subjects, who include such legends as Thomas A. Dorsey, Willie Mae Ford Smith (also known as Mother Smith), Delois Barrett Campbell, and Zella Jackson Price. Filming these and other gospel pioneers as they eat, talk, network, and perform, Nierenberg reveals how the political begets the personal and vice versa, uncovering inherent ironies in the artists' devotion to gospel while celebrating their ecstatic talent. The film is a rich fusion of concert doc and character study.
Like Frederick Wiseman, Nierenberg drops us right onto his stage, which in this case is the gospel scene of, primarily, Chicago. It may take a few minutes for gospel neophytes to sort out the various figures, but they have a charisma that stands on its own, especially Mother Smith, who serves as Say Amen, Somebody's protagonist and nucleus. An elderly, heavyset woman with big glasses that amplify her kind eyes, Mother Smith wears her wisdom, empathy, and weariness with the sort of un-self-conscious strength that shames most people's self-pity.
Mother Smith's poignancy and power reside in the contrast between her body's humility and her voice's booming transcendence, which turns her various experiences—tragic as well as joyful—into operatic art. Mother Smith makes her singing look easy, as if it's simply springing from her soul, but we learn bits of her technique in one of the film's best scenes. When a young man auditions for the National Convention of Gospel Choirs and Choruses, Mother Smith tells him that he has a good voice and that he's throwing away. She says that a singing mouth isn't pretty, instructing the man to cup his voice in his mouth, contorting it so that it occasionally resembles a horn. Within a matter of moments, the man's voice attains a sense of body and variation, a kind of vocal bass, which connotes greater soulfulness.
This sort of texture is what separates great documentaries from merely good ones. After Mother Smith coaches this man, Say Amen, Somebody's subsequent musical numbers are more powerful, as we're made manifestly aware of the discipline and the rigorousness inherent in their creation. The riddle of art-making involves a fusion of personality and technique that's so intricate as to render these qualities inseparable. Such devotion has a price of which Nierenberg is highly attuned, as Mother Smith and Zella Jackson Price, among other women, try to balance the expectations of their home with their desire to sing.
Nierenberg, a white man, examines black patriarchy with nimble humanist empathy, resisting the urge to code people as "martyrs" and "oppressors." Mother Smith and Zella are singers of different generations, and Zella understandably looks to the legendary Smith—who brought gospel to wider prominence by taking it out of the church, implicitly emphasizing its universality—as a mentor figure. In a moment of profound intimacy and tenderness, Zella confesses to Mother Smith at a kitchen table, admitting that she hates to leave her home for so long to tour the country, and Mother Smith tells Zella of the time that her own husband fell down an elevator shaft trying to chase her down and bring her home. The elder woman saw this incident as a sign from God, and her husband never bothered her again.
These singers' husbands may be traditionalists who wouldn't pass political muster in the modern age, yet Nierenberg explores their authentic pain and loneliness while honoring the plight of their wives. Zella isn't solely plagued by patriarchal pressures, as she also feels an authentic need to be with her family. In a brilliant structural flourish, Nierenberg follows Mother Smith and Zella's conversation with Zella's astonishing rendition of "I'm His Child," a song about religious devotion that's also, on a literal level, about devotion to a man (in this case, Jesus Christ). As documented by Nierenberg, this is the great irony of the female gospel star: They're resisting male pressures in order to sing about their fealty to men.
The latter form of worship, though, allows women to actualize their dreams of expression—of singing. The ecstasy of Zella's voice is all the more wrenching because we understand the sacrifice that brokers such a performance. And similar stories keep surfacing in the film. In another moving sequence, Delois tells her husband, Reverend Price, over breakfast that she's going away to tour in Europe with her sibling act, the Barrett Sisters. He's heartbroken and clearly downplaying it for the camera, and she feels so guilty that she can't look him in the eyes. (It seems as if Nierenberg has captured the entire marriage in a matter of minutes.)
Meanwhile, Mother Smith's grown children visit an abandoned train station, tearfully remembering their mother's departures and returns. The moment gently contrasts against the sexism of Mother Smith's grandson, who's nevertheless moved to tears by her singing in the film's grand finale. Even Say Amen, Somebody's most powerful man, Dorsey, who founded the National Convention of Gospel Choirs and Choruses, and who wrote the iconic "Take My Hand, Precious Lord" while reeling from the death of his wife and child, owes quite a bit of his legacy to a woman, Sallie Martin, who helped him monetize his sheet music. At one point, Nierenberg sits Dorsey and Martin together, as they talk of their history and listen to a record player. The filmmaker has a gift for fashioning such sequences, which lyrically boil yards of history down into a handful of warm, suggestive, tactile images.
Nierenberg is also interested in the role of money in the gospel scene. When the film's subjects intersect, including the O'Neal Twins, they often discuss the practicalities of making it financially in music, and how much religious elements have to be watered down to appeal to wider audiences. (Dorsey's music was once controversial for its allegiance to the blues, a reaction that's also ironic given the aesthetic similarity between the genres. To revise an old joke, gospel's about God while the blues is about women.) For instance, it's said in Say Amen, Somebody that Mother Smith hasn't enjoyed the sales of other musicians due to her devotion to communal activity, though she's every inch the "mother figure" to artists who gained wider prominence. A few of the film's most exhilarating passages show the artists intermingling in scenes that have been rendered with an Altman-esque sense of personal panorama.
One subject does dangle un-broached over Say Amen, Somebody: racism. Nierenberg offers a beautiful portrait of a branch of African-American culture, including many of its hardships, while refusing to define it via its tortured relationship with Caucasian America—an approach that reveals, by contrast, how often African-American culture is defined vis-à-vis whiteness. Instead, Say Amen, Somebody basks in the personalities of a glorious art, which offers solace from, among other things, the very endemic evil that Nierenberg brushes under the carpet. Although perhaps it's too easy for a white filmmaker to declare that race is beside the point, a possibility that charges this boisterous, often extraordinary film with a lingering tension.
Director: George T. Nierenberg Distributor: Milestone Films Running Time: 100 min Rating: G Year: 1982